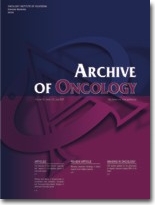 Current issue
Volume 21 Issue 2 June 2013
Articles (2)
Review Article (1)
Case Report (1)
Imaging in Oncology (1)
Commentary (1)
Letter to the Editor (1)
Archive of Oncology is an international oncology journal that publishes original research, editorials, review articles, case (clinical) reports, and news from oncology (medical, surgical, radiation), experimental oncology, cancer epidemiology, and prevention. Letters are also welcomed.


Archive of Oncology is covered by Biomedicina Vojvodina, Biomedicina Serbica, Biomedicina Oncologica, EMBASE/Excerpta Medica and ExtraMED.


Archive of Oncology is financed by the Oncology Institute of Vojvodina and partly by the Ministry of Science of the Republic of Serbia.